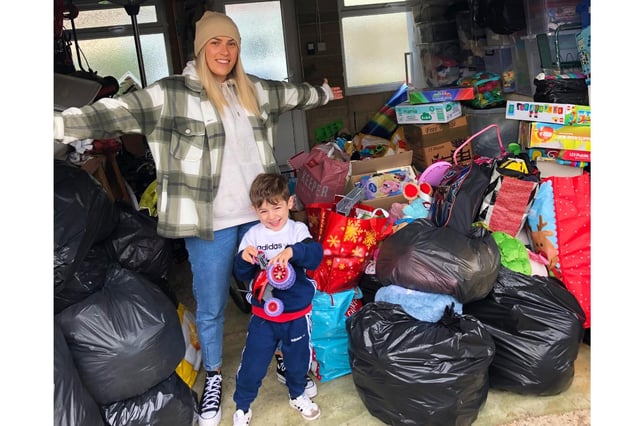 Megan Williams, 29, with her son Marley Wooden, 3, and the donations towards her Christmas hampers for families in need
Aiming to relieve some of the stress of the festive season, Megan Williams has been collecting bundles of donations to help out struggling families with some special gifts.
Megan, a teacher at Redbridge Community School in Southampton, has been inundated with gifts of toys, clothes, books and toiletries after putting out a plea to help provide something for those who need it.
The 29-year-old, who is being helped by her fiance and son, said: 'Working as a teacher, I witness every day the struggle. We're in a very fortunate position where we have both kept our jobs in Covid and I just wanted to do something to help people.
'It's a bit of a mammoth task but it feels so nice being able to give back. I just love knowing I can make a difference.
'I want people to feel they don't have to get into debt this year or sell things to survive. I want to give them that breather at Christmas.'
Read More
Read More
Portchester woman re-enacts Christmas film Elf around Gunwharf Quays in Portsmou…
After 25 kind families got involved and donated towards the cause, Megan was astounded to be able to fill a double garage with all of the generous gifts.
People can email for themselves or nominate someone they know who's struggling who won't step forward, to receive toys, books, clothes and more.
Megan told The News: 'We have had about five families come forward already. My family and I will go on Christmas Eve to deliver these.
'We will just knock and walk away, we don't need to know who these people are.'
Megan's son, three-year-old Marley Wooden, will be her little helper on Christmas Eve when they deliver each hamper to a family.
Megan added: 'He's an only child and has everything, and I wanted him to have good values and understand that not everyone has the luxuries he has.
'He's coming with me to collect the toys, I'm trying to involve him to educate him and help him have an understanding of what the world is actually like.'
To apply for a hamper or nominate someone else, email christmashamper2020@hotmail.com with the full address, the ages of children in the household and what they need, while leaving names anonymous.
A message from the Editor, Mark Waldron
Our trial offer starts from £2 a month for the first two months.


2020-11-24 09:05:00