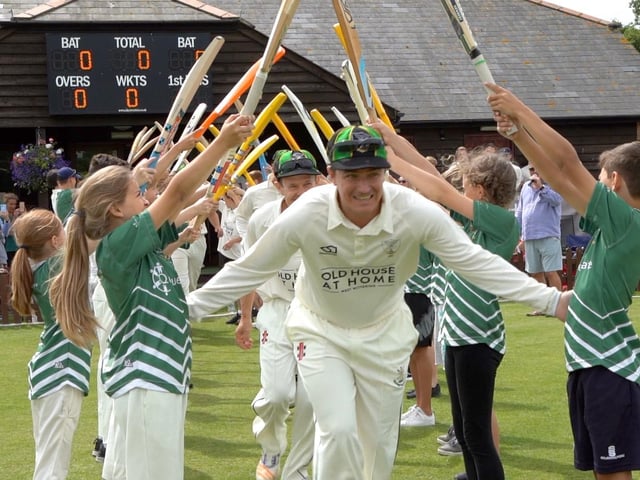 West Wittering CC hope to see scenes like this again this summer
With the Sussex Cricket League season starting for them on May 1,a week before many teams begin, they are hopeful of playing a full league season, even ifsome lockdown restrictions are in place for part of the summer.
The first XI are in division five west and will begin at home to Horsham twos.
WW's second are in division nine west and will start away to Findon thirds, also on May 1.
WWCC's Carl Tupper said: "Promotion is always in the mind's eye, with a real focus on the second XI this season.
"We have exciting plans in place to build on the successes with our women's Wolverines team, including some hard ball cricket.
"Junior cricket will continue to grow and thrive, with teams from U9 up to U16 in 2021 and All Stars Cricket for five to eight-year-olds.
"We will also be running a Dynamos cricket programme for girls only, which is for eight to 11-year-olds who are brand new to the game.
"We're excited to be entering the West Wittering Wolves into the Sussex Slam T20 competition too, with midweek evening matches suitable for those that can't commit to a longer game at the weekend.
"Along with all this, we're very fortunate that our fundraising efforts in 2019 and 2020 have allowed us to complete the addition of the balcony, which is a perfect place to view the cricket from in the sunshine. Further fundraising has allowed us also to refurbish our net facility, so we will have brand new nets for the start of the season.
"Our Clubmark club welcomes all new players of all ages and abilities to join any section of our club."
Email ctupper21@hotmail.co.uk for details.
At Selsey, who will start their division seven west season at home to Himani on May 8, first XI captain Tom Cripps said: "Seeing the fixtures come out was a small boost in these worrying times and gave the squad a little pick-me-up.
"We are looking good for this season – the club's slowly attracting new faces and we finished last season competing with and beating some good sides, so its an exciting time to be part of Selsey CC. We're just keeping fingers crossed that we get some cricket going – in a safe environment, of course."
Stirlands CC can't wait to get stuck into Sussex Cricket League and Sussex Slam action.
This week's news of sport returning over the next couple of months is timely and good news for local cricket scene, wherre hopes are high for a full season.
Stirlands will take their place in division four west.
Second XI captain Adam Norris said: "Like most clubs, we're completely unsure what will happen for the 2021 season; however, as much as possible we're planning for a full league season, alongside entering a team into the Sussex Slam.
"Normally by now we'd have been netting indoors somewhere, giving us the opportunity to engage people with thoughts of long hot sunny days, cold beer and the sound of leather on willow.
"However other than messaging individuals, we're having to rely on the success of the international side to build up any collective excitement for 2021."
Captaining Stirlands' first XI again will be Jake Moores, with Norris staying as skipper of the seconds.
Norris added: "Over the last couple of years we've had several juniors break into the senior sides, and we believe this is a more sustainable approach to take rather than attempting to convince players at other clubs to move.
"The nature of last season's August Cup enabled us to give youngsters experience 0f men's cricket earlier opportunity than we would have normally, which we're hoping will pay off.
"Now we await any kind of update regarding the season."


2021-02-27 09:30:00