SHELDON—Leadership is a habit at Sheldon High School, or at least that's what a group of students are trying to do.
Leader In Me is an all-grades initiative started by a group who wanted to help all Orabs become more self-reliant and take initiative inside and outside the classroom.
Juniors Maliah Kleinhesselink and Brianna Cannoy were among those founders and the two juniors run the Leader In Me communications committee.
"Basically, we're trying to make sure students step out of their comfort zone and become better leaders," Kleinhesselink said.
The organization's actions plan revolves around seven key ideas it calls "habits." They are:
Be proactive.
Begin with the end in mind.
Put first things first.
Think win-win.
Listen then talk.
Together is better.
Take care of you.
"The habits hopefully will help you to become a better person when you graduate and when you get a job," Cannoy said.
"You take it with you," Kleinhesselink added.
The Sheldon club based its group on a program of the same name, developed by Utah company Franklin Covey. According to the company website, Leader In Me is designed to "help educators address the instructional and cultural components of learning."
But at Sheldon High, the students are the ones at the helm.
"The meetings are mostly student-led, not by our teachers Mr. (Levi) Letsche and Mr. (Eric) Maassen," Kleinhesselink said. "They really challenge us to lead ourselves so we can demonstrate to other students."
Leader In Me started at the beginning of the school year and already has found success in some of its efforts. A popular initiative has been Habit of the Month. Starting in February, the organization has been pushing one particular mindset.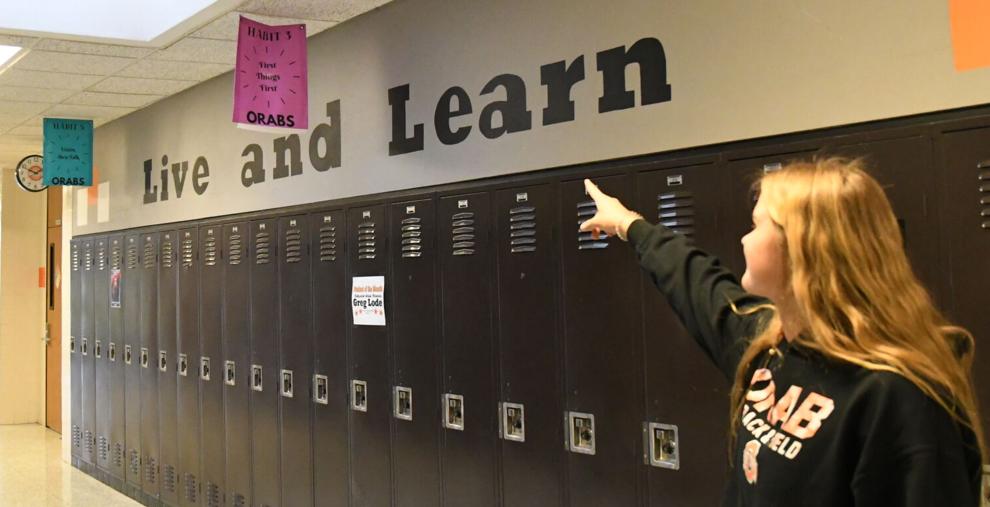 The hallways are plastered with the group's marketing, including a small mural on one of the walls.
April's Habit of the Month is "Put first things first" and "Think win-win" will be the theme in May.
"The habits really help because we want to give you clear things you can do every day to make yourself better," Cannoy said.
The committee members characterized a habit as something "you can't do once." By practicing something over and over, the behavior becomes second nature. If the whole school can get behind that — with its nearly 300 students — it will have an "environment that's loving," Kleinhesselink said.
"It's just keeping everyone accountable," she said. "Sometimes in the hallway we'll be like 'Are you sure that's being proactive?' or we'll just shout out the habits. It could be cheesy, but we're just keeping everyone together."
Cannoy said the longevity of the club's impact is her reason for staying involved. The junior plans to go into the medical field and knows the skills she is learning will support her beyond graduation.
"I'm only in high school right now, but this can help me in the future, in college and when I get a job," Cannoy said.
The two young mentors remembered instances of their classmates embracing the Leader In Me vision, and encouraging reward for their hard work.
"We wanted to start off with something new," Cannoy said.




2021-04-28 07:00:00